railway-international.com
Written on Modified on
New partnership with Pacific Eurasia
Through this new partnership, ÖBB Rail Cargo Group and Pacific Eurasia are connecting Europe and Asia and further enhancing the potential of the New Silk Road. The Köseköy Terminal will function as a central hub between both continents.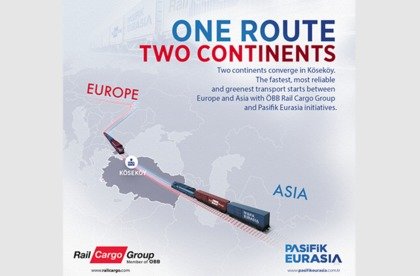 With their new partnership, ÖBB Rail Cargo Group (RCG) and Pacific Eurasia are strengthening the connection between Europe and Asia by using the Köseköy terminal as a key hub for shipments to and from Turkey and onwards to the CIS states and China. The cooperation will expand each partner's portfolio of fast, efficient and environmentally friendly transport services across the entire Eurasian continent.
Under the partnership, Pacific Eurasia will transport goods from Asia to Köseköy. From there, the RCG will take over and transport them to Europe. Conversely, the RCG will transport goods from Europe to Köseköy, where Pacific Eurasia will handle onward transport to Azerbaijan, Kazakhstan, Uzbekistan and on to China. This arrangement enables the two companies to promote sustainable rail transport across the entire Eurasian continent and to make a significant contribution to achieving global climate protection goals.
The Köseköy transport hub

ÖBB RCG and Pasifik Eurasia play a leading role in European logistics for shipments from China to Asia via Turkey. The ÖBB Rail Cargo Group currently offers high-frequency goods shipments from Europe to Turkey via the Halkali terminal with ten return trips a week. The launch of this partnership means that these trains will in future call also at the Köseköy terminal on the Asian side of Turkey. Being the closest cargo terminal to Istanbul, the terminal is operated by Pacific Eurasia and is considered an important hub for goods from the automotive, steel and timber industries being transported between Europe and Asia.
www.railcargo.com