railway-international.com
Written on Modified on
Selectron Systems and Irdeto implement new Threat Detection Solution for rail vehicle systems
Selectron Systems AG, one of the world's leading providers of safe and secure train automation solutions for Train Control & Management Systems (TCMS) has launched its new Threat Detection Solution specifically designed for rail vehicles.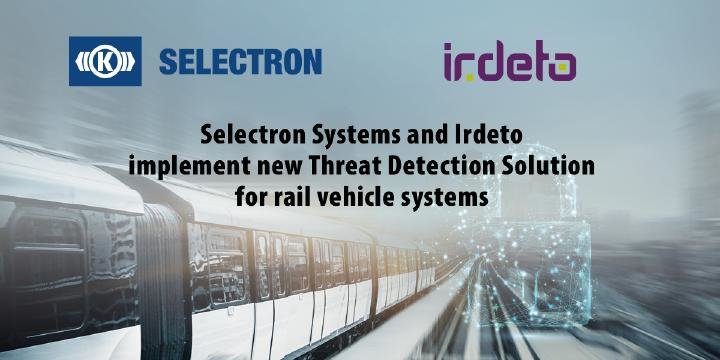 Selectron, a subsidiary of Knorr-Bremse, the global market leader for braking systems and other systems for rail and commercial vehicles, has partnered up with Irdeto to develop its new cybersecurity solution.
With advanced connected technologies also entailing potential exposure to cyber threats for the mobility sector, regulatory bodies stipulate protective measures for critical infrastructures – including rail transport services. Together with its business partner Irdeto, the Swiss-based company Selectron is addressing cybersecurity challenges with new technology. By launching its threat detection solution – Selectron TDS – Selectron is creating a cybersecurity alarm system for trains, providing early warning of potential attacks before any damage can be caused.
"Irdeto has shown a great level of flexibility and agility in adapting and optimizing the solution. Exactly what we are looking for in a partner. This partnership sets the standard for secure rail travel in a world where cybersecurity is becoming increasingly vital to ensuring safe operations," said Tomislav Radjenovic, Head of Strategic Marketing at Selectron Systems.
"This is the next step in our partnership with Selectron and it strengthens the new standard in security across the rail sector," added Niels Haverkorn, General Manager of Connected Transport at Irdeto. "The new TDS is an essential measure for the detection and protection against cyber-attacks and we are excited to be an integral part of the puzzle which makes the connected transport industry safer".
With Irdeto's Anomaly Detection System (ADS) as a key software component of the Threat Detection Solution, the TDS empowers rail operators to prevent attacks in new and legacy fleets by proactive monitoring and identifying suspicious activities in train network traffic, ultimately ensuring secure and reliable transportation and making train travel safer for passengers.
Trust anchors will be embedded into Knorr-Bremse and Selectron devices at the manufacturing stage, as Selectron Systems integrates the Knorr-Bremse Public Key Infrastructure (PKI) with the TDS sensors. The PKI service, also provided by Irdeto, is a substantial element of Knorr-Bremse's Security Architecture which provides secure identities, secure boot and authentication for the TDS solution.

Selectron Systems AG
Selectron Systems AG is one of the technological leaders in the field of train automation, offering solution-oriented Train Control & Management Systems (TCMS) and cybersecurity solutions for rail vehicles. Manufacturers, integrators and operators of rail vehicles around the world rely on Selectron's solutions consisting of hardware and software that are coordinated with each other. With over 160 dedicated employees, Selectron supports its customers in further automating, improving and protecting their businesses. Thanks to its integrated, generic software chain and modular hardware components, Selectron combines powerful product features to create a consistent and mature overall system with a focus on safety and security. For further information please visit
www.selectron.ch.