railway-international.com
Written on Modified on
TSN Starterkit update facilitates entry into industrial real-time computing
The Kontron TSN Starterkit supports new industry standards for time sensitive networks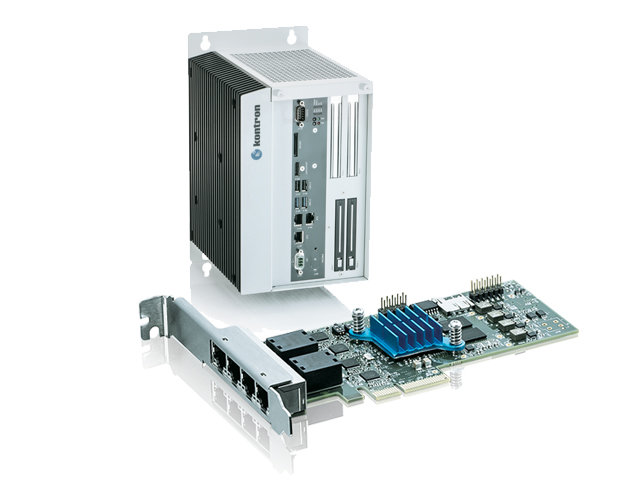 Kontron, a leading global provider of IoT/Embedded Computing Technology (ECT), is launching a new version of its TSN Starterkit. The FPGA software upgrade for the PCIe card in the TSN Starterkit or in existing SoftPLCs, Box PCs, Gateways and Industrial Servers now enables IEEE 802.1Qbu and 802.1CB functionality. TSN is becoming more and more relevant in the Industry 4.0 environment in order to implement real-time applications.
With the starterkit, TSN environments can be set up quickly and securely and devices can be easily integrated. A PCIe card with optimized DMA host interface and 8 DMA channels controls the alignment of TSN priorities to minimize latency and jitter.
The new IEEE 802.1Qbu standard makes it possible to prefer packets that require hard real-time (pre-emption). 802.1CB functionality provides redundant frame transfer for fail-safe connections. Two different FPGA versions support shape-based or time-gate based prioritization. Kontron offers functional compliance tests to ensure compliance. An open62541-based demo application "OPC-UA over TSN" helps to establish data transfers.
With the development tool under Linux 5.4 with real-time extensions, as well as source code and documentation, applications can be developed quickly. The starterkit is based on the maintenance-free industrial Box PC KBox C-102-2 with an Intel
®
Core i5 processor, a pre-integrated TSN network card and a switch to connect additional devices. An updated NETCONF daemon based on netopeer2 provides centralized management.
www.kontron.com