railway-international.com
Written on Modified on
SMARTLINK: ADD-ONS
Need anything else? Then we'll meet your requirements in a final step with our add-ons.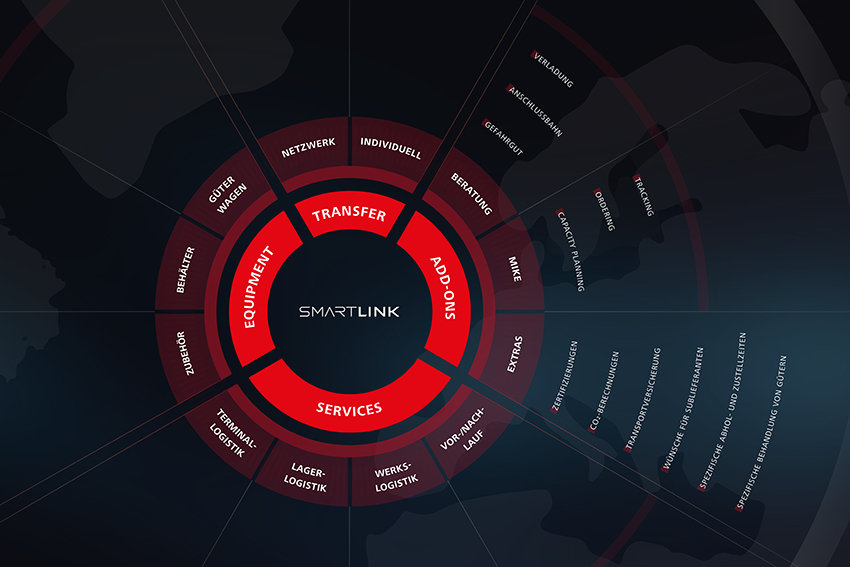 SmartLINK (the RCG's digital spectrum of services) clearly shows the numerous additional options on offer. We provide our customers with a wide range of additional services that're suitable for the selected TransFER, equipment and service to complete the logistics project.
MIKE

MIKE, our digital assistant, assists customers, partners and our employees with handling transport operations. MIKE is constantly offering new functionalities that make organising transport easier, more efficient and more transparent. The reliable assistant never lets freight out of its sight and shows up-to-date freight locations on a map view with the Tracking function. MIKE also uses Ordering to help with ordering empty wagons. And to avoid bottlenecks and overcapacities in the freight car stock, MIKE's Capacity Planning function enables to calculate how many cars our customers need at what times on the basis of their production plan.
Extras

We also offer a range of extras. If desired, we can take care of weighing, clean the containers, handle customs procedures or arrange proper transport insurance. We're also the right people to contact for CO2 calculations, certification-related issues or specific pick-up and delivery times.
Consulting

Customers often rely on our expertise and make use of our consulting services when it comes to the likes of handling dangerous goods or industrial sidings. If necessary, we also bring our know-how to the table when loading freight with special requirements. For example, we prepare feasibility analyses and design plans for conversion work or wagon adaptations and, in so doing, provide respective decision-makers with a helping hand.
www.railcargo.com