railway-international.com
Written on Modified on
Thalys inaugurates the train of tomorrow
Thalys inaugurated its new trainset today, the Thalys of tomorrow,sporting a new contemporary design and a completely updated special concept, offering a highlevel of comfort. This renovated train reflects the company's desire to pave the way for theinternational rail travel of the future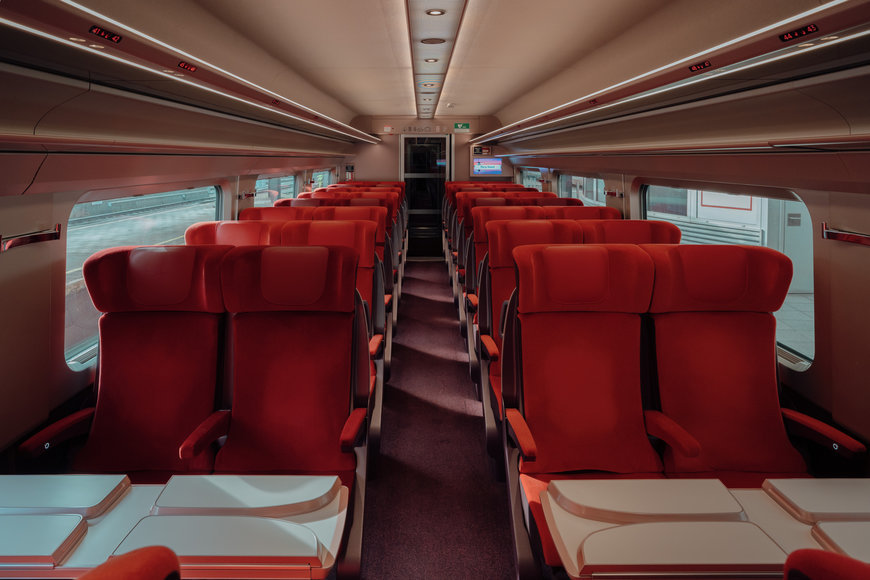 More comfort
For the renovation of its trains, Thalys called on Yellow Window, a Belgian design firm headed by Axel Enthoven, with the mission of increasing capacity (28 seats) while maintaining the high level of comfort Thalys is known for. French designer matali crasset worked on the choice of certain colors and design elements of both the seats and the bar area.
The absolute priority of the renovation was comfort, particularly in the choice of the seats, the quality of which contributes to the positive reputation of Thalys. This seating comfort is complemented by visual comfort, based on continuous lines and particularly elaborate lighting.
Several n features, such as jacket holders, USB sockets and information screens, have also been added or updated in order to increase ease of use and the wellbeing of passengers travelling aboard Thalys.
Throughout this renovation process, Thalys also called on 5,000 customers to share their input and expectations.
More space
To keep up with the strong growth in travel demand, admittedly slowed by the COVID crisis, the special concept of the train has been reconfigured so as to offer 28 additional seats without compromising on comfort.
Luggage storage has been increased by 15% to better accommodate leisure customers. The new bar area, now called 'Kiosk', has been completely revamped, reflecting the new travel habits of Thalys customers. Equipped with drink and snack dispensers, it has been designed to offer a range of different services that can be adapted to different destinations and times of day.
More sustainable
With this new train, Thalys is pursuing its ambition to offer its customers increasingly environmentally friendly journeys. Already powered by 100% green energy, Thalys trains are now equipped with LEDs, for more ecological electricity consumption, and clear water toilets, which do
not use chemicals. Thalys is also making a point of eliminating single-use plastic and replacing it with sustainable materials. Finally, the increase in train capacity has made it possible to significantly reduce CO2 emissions per km per passenger.
"In 25 years, Thalys has helped strengthen links between Europeans. Today, we are proud to inaugurate our new trains and to offer our customers a mode of transport that offers a high level of comfort, reliability and sustainability. These trains are proof of Thalys' determination to continue to renew itself in order to meet the needs of our passengers and to help European rail transport evolve," says Bertrand Gosselin, CEO of Thalys.
On the occasion of this inauguration, the new train linked Brussels to Paris this afternoon with many Thalys partners on board. At Paris-North station, the newly designed Thalys was welcomed by Jean-Baptiste Guenot, Director of Europe and International Development at Voyages SNCF, who joined Bertrand Gosselin to cut the inaugural ribbon and officially launch this new train.
"Thalys, with its inherently European DNA, is a spearhead of the SNCF in Europe, putting the customer, high-quality rolling stock, safety and sustainability at the heart of its strategy. The 'Ruby' trains symbolize the future of both Thalys and the SNCF's European rail strategy," explained Jean-Baptiste Guenot, Director of Europe and International Development at Voyages SNCF.
The newly renovated train, inaugurated on Wednesday, October 27, 2021, is to first run on the Paris-Amsterdam route. It will connect destinations such as Paris, Brussels, Antwerp, Rotterdam, Schiphol-Airport and Amsterdam. It is scheduled to start operating on the German route from Paris to Dortmund via Brussels, Liege, Aachen, Cologne, Düsseldorf, Duisburg and Essen in 2022.

KEY FIGURES
- 28 additional seats in the new trains, i.e., +7.5%.
- 288 seats in Standard class
- 111 seats in Comfort and Premium classes
- 22 screens providing real-time passenger information on board
- +15% storage room for luggage, the equivalent of 400 suitcases
- 5,000 customers consulted on the renovation
- 240 m² of carpeting on the floor
- 150 m² of fabrics used in the new train
- 850 m² of needlepoint (walls and ceilings of the train)
- 14 organic products offered in the new Kiosk
- 8462 hours of brainstormin
www.thalys.com