railway-international.com
Written on Modified on
Kawasaki Heavy Industries, Ltd. through Kawasaki Rail Car, Inc. (KRC), its U.S. subsidiary based in Yonkers, New York, has delivered the first unit of R211 subway cars for New Yok City Transit Authority (NYCT*1).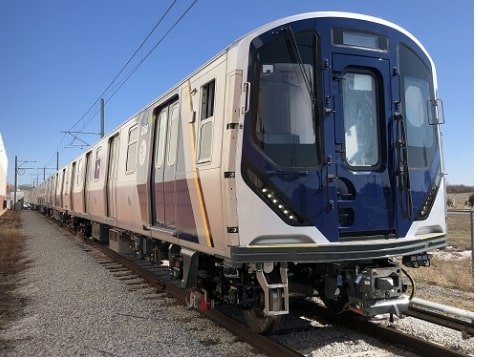 The five subway cars delivered are part of the Base Contract consisting of 535 cars awarded to KRC back in February 2018. The cars were manufactured at Kawasaki Motors Manufacturing Corp., U.S.A.*2 (KMM) Railcar Plant located in Lincoln, Nebraska and will undergo approximately a year of testing prior to entering service.
The R211 subway cars will replace the existing subway cars (R46) as part of NYCT's plans to modernize the subway system, to accommodate the increasing ridership, and to improve passenger service. It features LED lighting, digital displays, and wider doors for smoother boarding and exiting during congestion. In addition, the Base Contract includes two test trains consisting of ten cars each to be used for testing and evaluation of inter-car gangways which may improve passenger flow.
In addition to the Base Contract, this contract includes options for up to 1,077 bringing the total cars ordered to 1,612 if both options are exercised. In the event where all options are exercised, the R211 contract would become the largest railcar contract ever awarded to Kawasaki.
Kawasaki has successfully delivered over 2,200 cars to NYCT since receiving its initial order in 1982 for the R62 subway cars. Kawasaki will continue to build its credibility with its technical expertise by providing environmentally friendly modes of transportation within the United States and to markets around the world.
Summary of the R211 cars
- Car Type .Subway cars (5 cars/Unit)
- Measurement(s). 18.44m(L) x 3.00m(W) x 3.665m(H)
- Carbody Material: Stainless Steel
*1 NYCT (New York City Transit) is a public authority which operates public transportation in the New York City, a part of the Metropolitan Transportation Authority (MTA). MTA consists of NYCT, Long Island Rail Road (LIRR), Metro-North Railroad (MNR), MTA Bus, MTA Bridges and Tunnels, and MTA Construction and Development.
*2 KMM is our U.S. subsidiary that primarily manufactures railcars, personal watercrafts, ATVs, general-purpose engines, and aircraft cargo doors
www.global.kawasaki.com