railway-international.com
Written on Modified on
During the health crisis, contactless ticketing has become one of the safest ways to pay for travel. Smartphones are also rewriting the rules of urban mobility, with passengers increasingly expecting to use their phones as tickets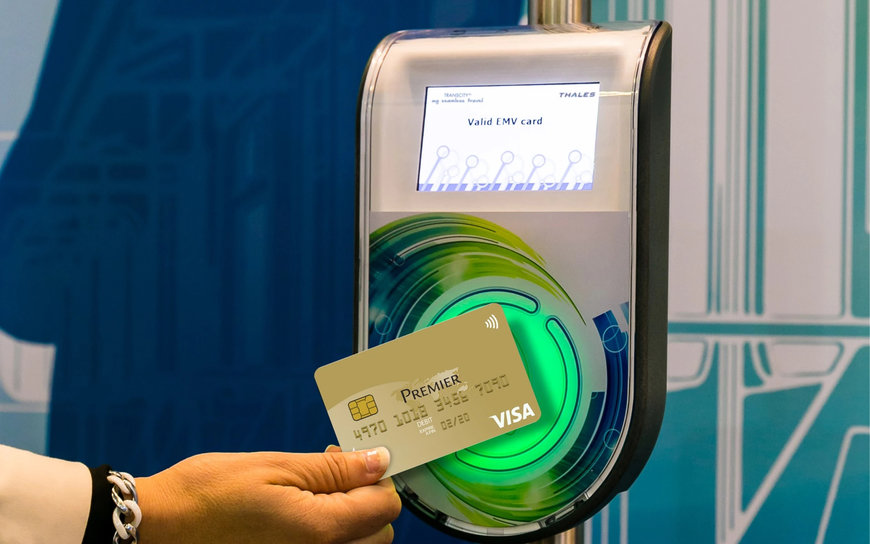 Contactless interoperable fare collection allows passengers to use a single ticket for their entire journey, all modes of transport included, and makes travel easier and more seamless than ever before.
Thales's TRANSCITY mobility platform has already been selected by public transport operators worldwide and is now fully Visa Ready for Transit certified. Visa Ready for Transit certification shows that the Thales solution complies with all VISA requirements at both system and hardware levels and can be deployed with confidence by transport operators.
Transit networks traditionally use systems based on their own proprietary cards to take payments for bus, metro, train and tram journeys. The system and equipment provided by Thales can process contactless bank cards as well as proprietary cards, regardless of the pricing model chosen by the operator (Known Fare Model or Variable Fare Model).
The modular, scalable TRANSCITY architecture allows operators to choose the combination of products that best meets their specific infrastructure needs. It can be implemented in the operator's datacentre or hosted in the cloud to benefit from additional resources on demand. This architecture is cybersecured by Thales.
Transport operators can now offer an optimal experience by allowing passengers to pay for their journeys with any of the contactless media available: proprietary card, bank card or payment-enabled smartphone.
"Smart ticketing makes it easier for people to travel by giving them access to the modes of transport best suited to their needs. Thanks to our ticketing solutions, Mobility-as-a-Service (MaaS) becomes a reality.Each passenger can plan their own journey by combining the various services and using a single method of payment." – Jean-Marc Reynaud, Vice President, Thales Revenue Collection Systems.
www.thalesgroup.com