railway-international.com
Written on Modified on
RockTainer SAND success story at Rohrdorfer
In the summer, transport for Rohrdorfer was shifted to Innofreight's innovative wagon equipment. Furthermore, the Rail Cargo Group was able to increase its transport volume capacity even further and now takes care of all raw material transport for the Rohrdorf cement works.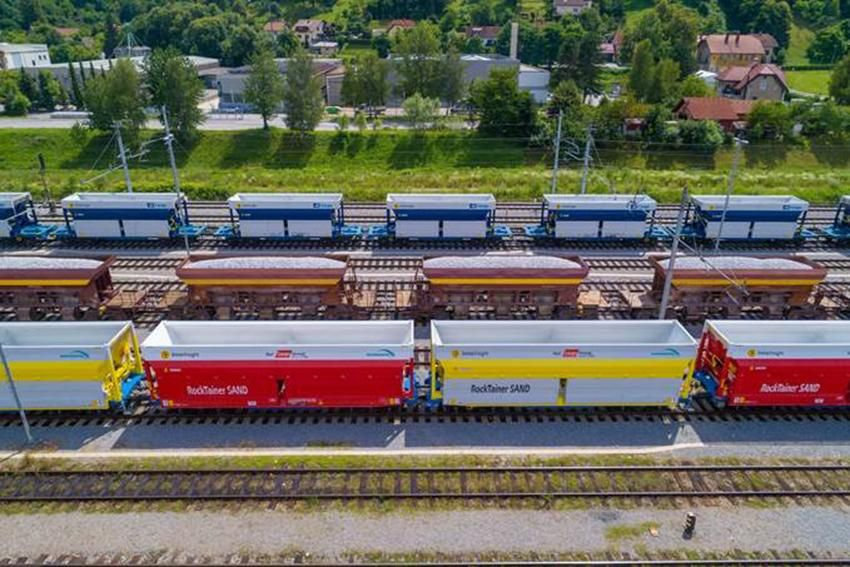 The Rail Cargo Group shifted its transport for Rohrdorfer to innovative wagon equipment belonging to Innofreight, one of the Rail Cargo Group's partner companies – the "RockTainer SAND" was developed together with the Rohrdorfer Group. This equipment has an impressive high load capacity, and efficient unloading technology and, what's more, they are quiet. Their high-performance system enhances capacities when it comes to delivering raw materials.
The "RockTainer SAND" equipment has been transporting granulated slag from Linz to Rohrdorf for three years now. Another ten InnoWaggons and 20 RockTainer SAND wagons were delivered to Rohrdorfer this summer and have replaced the old freight wagons.
Raw material deliveries for Rohrdorfer
An additional 300,000 tonnes in annual tonnage have increased transport volumes for the factories in Rohrdorf and Gmunden to around 1.5 million tonnes this year. As of 2020, the RCG, including Rail Cargo Carrier - Germany (RCC-DE) has taken over all raw material transport for the Rohrdorf factory RCC Germany.
Both traction along the Salzburg – Rosenheim route and shunting services from Rosenheim to Rohrdorf are handled in-house by RCG. RCC–DE also takes care of the sections within Germany between Nordhausen and Fischbach. Locomotive and locomotive driver changeovers are no longer needed in Kirchbichl, and this is another way we are optimizing our services.
www.railcargo.com