railway-international.com
Written on Modified on
Mitsubishi Electric to Launch HV100 dual type X-Series HVIGBT Modules
For extra powerful and efficient inverter systems in railways, electric power systems and more.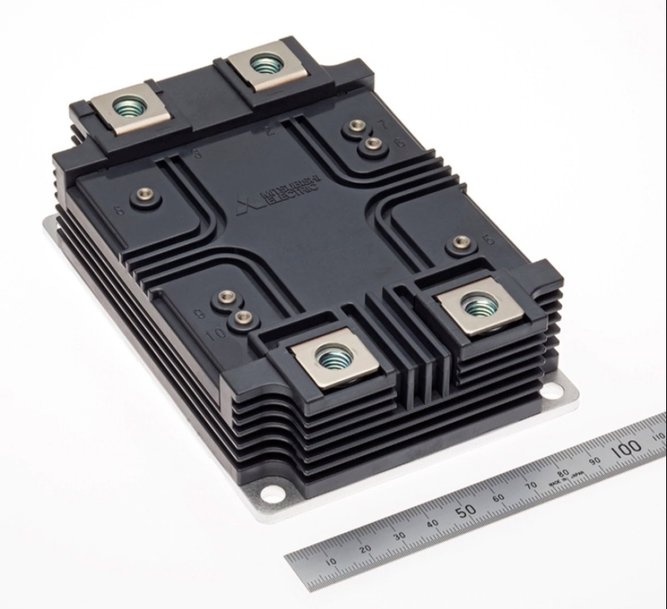 X-Series HVIGBT module HV100 dual type

Mitsubishi Electric Corporation (TOKYO: 6503) announced today the coming launch of two new HV100 dual type X-Series HVIGBT modules for higher power, efficiency and reliability in inverter systems for large industrial equipment such as railways and electric power systems. The modules achieve industry-leading* dual type 600A current ratings with 10kVrms isolation voltage, believed to be unmatched among silicon HVIGBT modules rated at 3.3kV. Sample shipments will start in April 2021.

*According to Mitsubishi Electric research as of December 17, 2020.

Product Features
1)Industry-leading 600A rating for increased capacity

Current rating of 600A, tops among high-current-density dual types with 10 kVrms isolation voltage and 3.3kV collector-emitter voltage, will help realize high-power, high-efficiency inverter systems for large industrial equipment such as electric railways and DC transmission systems.
Seventh-generation IGBTs incorporating CSTBT and RFC diodes achieve 8.57A/cm2 power density, unsurpassed by other Si-modules (3.3kV/600A version).
2)High isolation voltage and easy parallel connection for flexible circuit configurations and capacities

HV100 package with 10kVrms isolation voltage will help simplify insulation design in multi-level circuits for large industrial equipment.
Terminal layout is optimized for easy paralleling and more flexible inverter configurations.
3)New package structure for more reliable inverter systems

Integration of the isolating plate and heat sink increases the thermal cycle lifetime for relatively long-term cycling of case temperatures.
Lower thermal resistance increases power cycle lifetime for relatively short-term cycling of chip temperatures.