railway-international.com
Written on Modified on
Producer gas tanks on the sustainable railways
A total of six producer gas tanks from the company Air Liquide in France began their journey on 23/09/2020. By 29/09/2020, they had already reached their destination in Austria.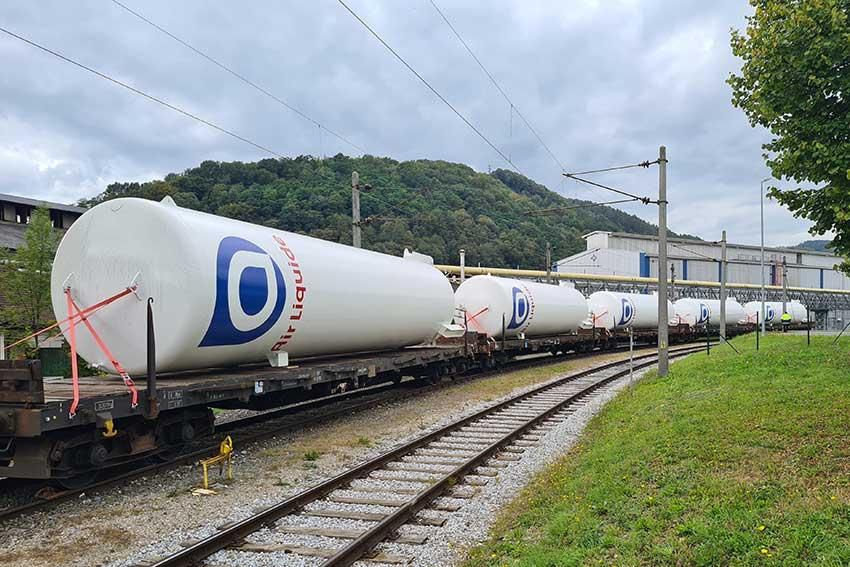 Five of the producer tanks, each with a capacity of 63,000 litres, were brought first by truck from France to Dillingen-Saarbrücken. The Rail Cargo Group then transported them to Kapfenberg in Austria, where they will be used at the new voestalpine Böhler steel plant. On top of this, one "smaller" tank with a capacity of 52,000 litres was also delivered to St. Pölten-Spratzen, where it is being used in the food industry.
A specialist company loaded and secured the tanks on to DB flat wagons with a mobile crane. On account of the size of the containers, they were handled as special transport with the relevant route authorisations. Since road transport would have led to considerably higher costs for this special transport, including the cost of escort vehicles and personnel, rail proved the most economical and environmentally friendly option thanks to rail freight's smaller carbon footprint. What is more, this transport option has also been tested out for more potential transport services like it.
Producer gas tanks on the green railways

Air Liquide, which has its headquarters in Schwechat, is a global market leader when it comes to gas, technology and services for industry and health. The company places a special focus on optimising energy efficiency and reducing pollutant emissions. By choosing rail transport, the company not only takes a stand for environmentally friendly manufacturing, but also for efficient and sustainable transport in Europe.
www.railcargo.com