railway-international.com
Written on Modified on
Lenzing AG's first train to China
The short-term rise in demand from China has resulted in the Rail Cargo Group transporting a block train with special fibres from Lenzing AG to Shanghai for the first time ever.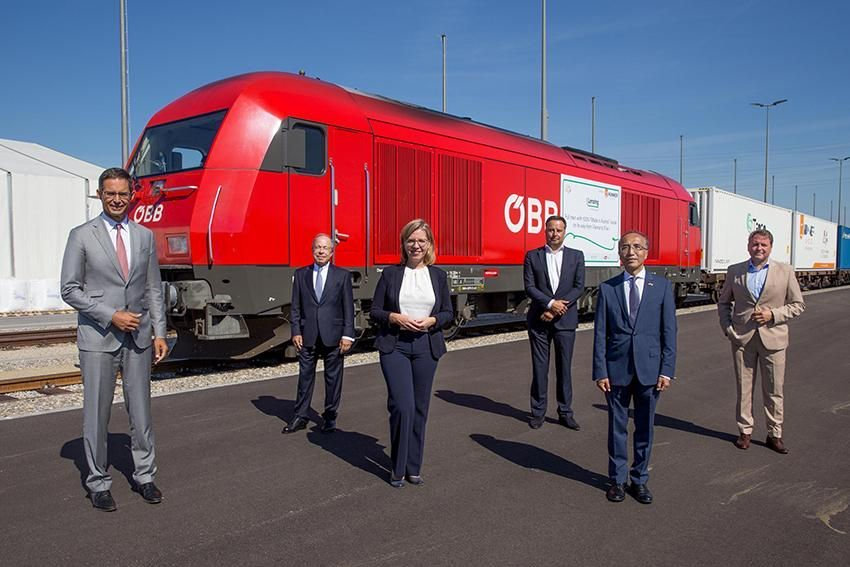 The first direct train with 41 containers started its journey to Shanghai from Vienna South Freight Centre at 11.00 am on 20 August. This train will cover 10,460 kilometres in total on its 16-day journey and will supply Chinese manufacturers and dealers with sustainably produced Lyocell and Modal fibres from Lenzing. The Silk Road's connection to the RCG's dense and efficient network will allow the train, provided by Nunner Logistics, to reach relevant customers in China twice as fast.
Departure from Vienna South Freight Centre
The train set off in the presence of Federal Minister Leonore Gewessler, Li Xiaosi (Ambassador of the People's Republic of China to Austria), Stefan Doboczky (CEO of the Lenzing Group), Erwin Cootjans (CEO of Nunner Logistics), Erich Hampel (Chairman of the B&C Private Foundation) and Thomas Kargl (COO for Sales at the Rail Cargo Group).
'Our declared goal is to increasingly shift freight transport to rail. Rail transport is the only way of reconciling climate targets and economic and thus transport growth, which is why we're so thrilled to be part of this unique project for our long-standing customer,' stated Thomas Kargl. The RCG is not only supporting Austrian and local companies in China with their import and export activities in this respect; it is also enabling efficient distribution throughout the entire Eurasian continent with its fast direct connections.
www.railcargo.com