railway-international.com
Written on Modified on
HS2 TUNNELLING IN THE CAPITAL PASSES THE FIRST MILESTONE
Since launch in November 2022, the 2,000-tonne TBMs have both installed over 847 tunnel rings each, made up of 5,929 concrete segments.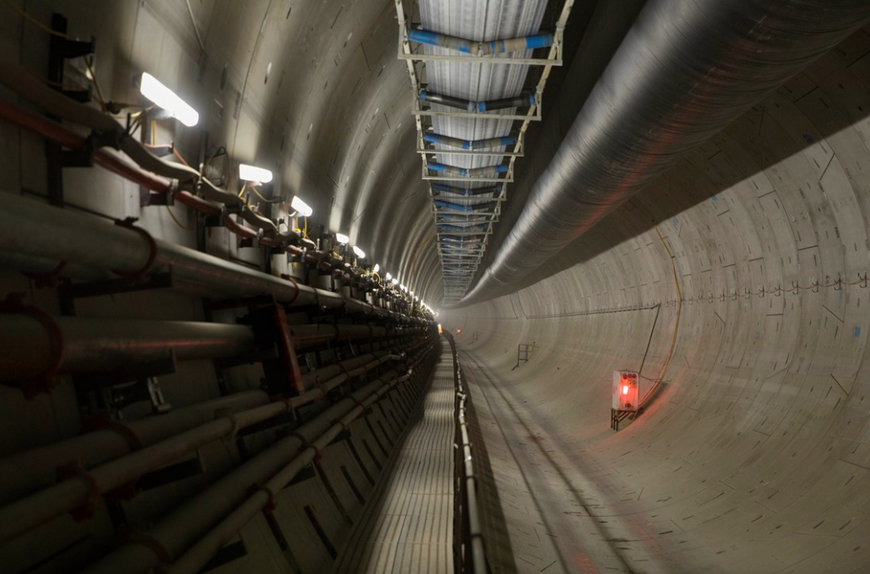 HS2's first two Tunnel Boring Machines (TBM) in London, Sushila and Caroline, have completed the first mile of the twin-bored tunnel in the capital.

The tunnel being constructed by Sushila is the "downline" and will be where trains travelling south towards London will run once Britain's new high-speed rail line is operational. Caroline is constructing the "upline", where trains will travel to the Midlands and North.

In total, the twin-bored Northolt Tunnel will be 8.4 miles long and is expected to be complete by 2025.

Over 240,000 m3 of mixed soil (London Clay, chalk and sand) has been extracted during the tunnelling process so far and is being used north of the tunnel to create new wildlife habitat and landscaping. The earth is kept within the HS2 site boundaries.

The first TBM was named by Dairy Meadow Primary School in Southall after Sushila Hirani, a local teacher with a passion for getting more girls and pupils from BAME backgrounds into STEM. The second TBM, Caroline, named after astronomer Caroline Herschell by Brentside Primary Academy School, was launched shortly after Sushila.

A team of 17 tunnel engineers from HS2's Main Works Civils Contractor, Skanska Costain STRABAG joint venture (SCS JV), has been operating each TBM, working closely with a 60-strong team on the ground.

The 58,000 tunnel segments for this section of the London tunnels are being manufactured by Pacadar on the Isle of Grain in Kent. Recently the delivery of the segments has been by rail to the sidings at the West Ruislip site, reducing lorry journeys on roads.



The SCS JV team are now preparing to begin the construction of cross passages between the two tunnels. The link between the two parallel tunnels will be used in emergencies.

The TBMs are due to reach the first ventilation and emergency access shaft at South Ruislip in Autumn 2023, after they have travelled a distance of 1.7 miles. The shaft is 35 metres deep and a 'headhouse' will be built above it to house safety equipment. The building will have a green roof and will be constructed using timber and brick, sympathetic to the local landscape.

The 8.4-mile Northolt Tunnel will be completed with two additional TBMs which will be launched from the opposite end of the tunnel at Victoria Road Crossover Box in Ealing next winter. All four TBMs constructing the tunnel will end their journeys at Greenpark Way in Greenford in Ealing where they will be extracted from the ground.
www.hs2.org.uk