railway-international.com
Written on Modified on
Premium ODX-6000 Three-Phase DC/AC Inverter
ODX-6000: New Parallelizable Inverter, up to 30kW of Power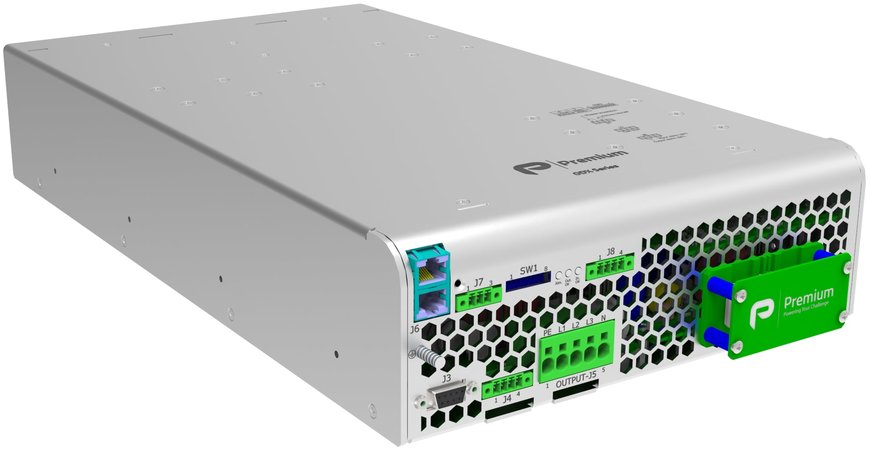 Solutions designed for the railway market require extremely reliable technological concepts. The new ODX-6000 three-phase DC/AC inverter guarantees these very high standards in terms of accuracy, performance, safety, and strict regulatory compliance.
The ODX-6000 consists of 6000W pure sinewave inverters with multiple input-output voltage combinations. In addition, it stands out for its small size, high power density and efficiency. It allows up to 5 parallelizable units, which can add up to 30kW, making it a unique solution in the market. With the use of silicon carbide (SiC), the ODX-6000 offers high density and up to 94.3% efficiency. The unit can operate at high temperature, high power and high frequency. Avoiding potential energy loss is key, and this new series of 6000W inverters are also a guarantee of maximum optimization of the electrical flow.
The ODX-6000 is equipped with a maximum average power protection as well as maximum output peak current protection, and it features a disable function for input under-voltage, which allows protecting the batteries from harmful discharges. High isolation, adjustable parameters through RS-232 and CAN BUS, isolated alarm and remote control, among other technical parameters, make the ODX-6000 a reliable and dynamic solution.
The unit allows:
- Up to 5 units working in parallel (30kW)
- Changing the output voltage and frequency
- Start-up the motors by a soft start based on voltage/frequency ramp up
- Modify the slope of the start-up ramp and have a remote control via RS-232
- Set the rotation speed of a motor according to the appropriate voltage/frequency ratio
- Activate shutdown by applying voltage output
- Setting and monitoring the status of the input and output voltage through a user friendly software interface
- Regulatory compliance and safety EN50155 and EN45545-2
Key Features
- Multiple input voltage versions
- Parallelable output (up to 5 units, 30kW)
- Output voltage configurable from 70 to 400Vac
- Output frequency configurable from 5 to 75 Hz
- High input-output isolation (3000Vrms)
- Remote control via RS232
- CAN BUS optional
- High power density
- Input / Output alarms
- 5s. peak power
- Up to 94.3% efficiency
- Programmable ramp-up behavior for motor soft startup
- Low THD Total Harmonics Distortion (<2%)
video of ODX-6000
Premium manufactures all units in Barcelona under strict quality controls and offers a 5-year warranty in all its standard product line for the railway market, which include DC/AC inverters, DC/DC converters, power conversion systems and customized solutions.

www.premiumpsu.com