railway-international.com
Written on Modified on
Bombardier engineer wins Clara Jaschke Innovation Prize 2020 for women
This year's "Clara Jaschke Innovation Prize" goes to Sara Valipour, engineer at the global mobility solution provider Bombardier Transportation in Hennigsdorf, Germany. This was announced today by "Allianz pro Schiene", a non-profit, independent association for the promotion of environmentally friendly and safe rail transport. Allianz pro Schiene awards the prize every year to successful women in the railway industry who shape the future of mobility with their innovative ideas.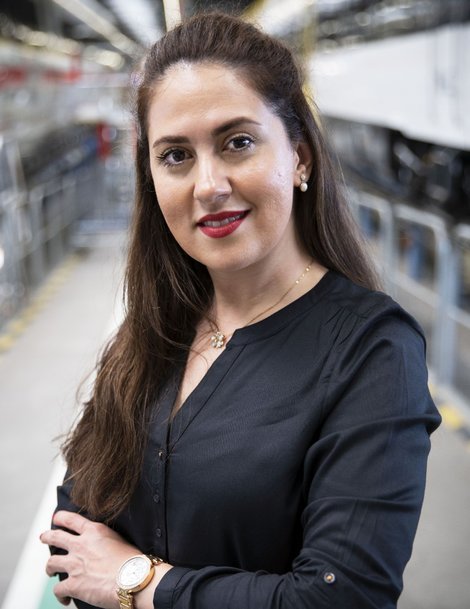 Sara Valipour, winner of the Clara Jaschke Innovation Prize 2020.

Using data science, Sara Valipour develops solutions to improve train reliability
The award ceremony will take place at InnoTrans 2021
"I am happy to be a part of the digital transformation in the railway industry. There are many possibilities to actively shape intelligent, sustainable and connected mobility."
- Sara Valipour, Reliability Team Lead at Bombardier Transportation

Sara Valipour joined Bombardier about two years ago and is based at the Hennigsdorf site. Using data science, she has developed an analysis method that can be used to precisely predict and improve the reliability of trains. For that, error messages of Bombardier trains across Europe are being registered. This also includes data of systems such as air conditioning, brakes or doors.

Based on calculations or on field data, the analysis data is already being used at the beginning of a train's development phase and are repeatedly being updated during the whole development process. The collected data is clustered in standardized error categories and evaluated using appropriate algorithms to develop solutions to improve reliability. With this so-called "Design for Reliability" method, all involved functionalities are included from the system-critical train control to the comfort-relevant power socket or reading lamp. This provides a holistic and cross-functional view that allows an exact prediction of the reliability of the trains.


In addition, the interdisciplinary digital data collection and analysis can identify error sources that might otherwise have remained undetected. These findings are immediately forwarded to the responsible functions for troubleshooting to prevent train delays or cancellations. Using the data, it is also possible to determine the need to foresee fall-back systems which are designed to take over when the initial system experiences an error, for example for an air conditioning system. At the same time, the data can also be used to derive a life cycle analysis which with predictive maintenance, can extend both the maintenance intervals and the life cycle of the trains.
The award ceremony will take place in April 2021 as part of the international leading trade fair for transport technology "InnoTrans 2021".
www.bombardier.com