railway-international.com
Written on Modified on
VOLKER RAIL: HOPE VALLEY RAILWAY UPGRADE PICKS UP PACE IN 2023
New Year work has now begun for the VolkerRailStory joint venture, as it continues to increase resilience and improve reliability on the Hope Valley Railway Upgrade project.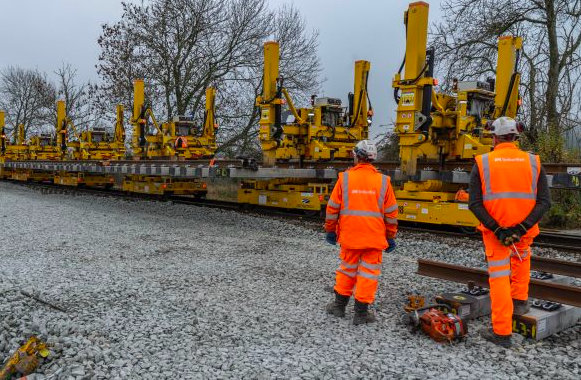 Since May 2022, the joint venture has been working around the clock to remove several bottlenecks between Manchester and Sheffield, as well as signalling upgrades to improve reliability and platform extensions, allowing for more carriages on services.

Throughout January and February, the joint venture will be undertaking weekend possessions to complete the first phase of the passing loop installation, enabling faster trains to overtake slower trains at Bamford, and lift in a new footbridge at Hathersage, which will replace the current foot crossing, offering a safer route across the line for walkers.

Hope Valley Railway Upgrade
The Hope Valley Railway Upgrade will remove several bottlenecks between Manchester and Sheffield to allow passenger trains to overtake slower freight trains along the line.

The main improvements include:
A new platform and accessible footbridge with lifts at Dore & Totley station
A railway loop between Bamford and Hathersage
A new overbridge at Hathersage West, replacing the current foot crossing to improve safety
Signalling improvements along the line to improve reliability
Platform extensions to allow for more carriages on services
Once complete, this project will deliver real benefits for passengers in the North of England, with improved train reliability and an upgraded network to help meet future demands.
www.volkerrail.com